Cover Story: Business Built on Honesty and Integrity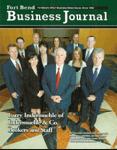 Houston, Texas – June 10, 2005 – Do unto others as you would have them do unto you is how Larry Indermuehle has built his full-service commercial real estate services business.

Evidently, Indermuehle's business philosophy works well because when he opened Indermuehle & Co. in Sugar Land 10 years ago he and Tawnya Dornak were the only employees and today he has nine brokers and five on his support staff. "Over the years, I have built my business based on honesty and integrity and every broker that joins us understands how critically important this is. My goal is to run this business in the same fashion we would want to be treated. I've built a reputation of high integrity and standards and we're respected and known for that throughout the commercial real estate industry.
"We are fortunate to have a lot of repeat and referral business. We probably get between 50 to 60 percent of our business from referrals," said Indermuehle, who considers Indermuehle & Co. a unique commercial real estate brokerage firm rather than a traditional large volume transaction shop.

His company is relationship driven rather than transaction oriented and to that end, he said, he'd rather turn down a deal than do a disservice to a client.

With that philosophy strictly adhered to, Indermuehle & Co., provides comprehensive real estate representation for industrial, office and retail businesses and corporations. His staff provides expertise in site selection, tenant representation, property leasing and management, acquisition and disposition of properties and build-to-suit and design construction services. His brokers work with large and small companies that are interested in the Houston area and Fort Bend County commercial real estate markets.

"We handle brokerage sales for sellers and buyers, leasing for free-standing or multi-tenant projects, land acquisitions, as well as market properties for disposition. Currently Indermuehle & Co. also leases and manages nearly 700,000 square feet of investment properties.

"We're real estate driven, client directed. Simply stated it means just that. Our profession is real estate but we work with clients who consider us their in-house real estate division. Most clients consider us their single source when they need real estate consultation on any matter, large or small. We counsel with them using best strategies practices to create the optimal real estate solution based on their individual needs. Our forte has been to work with clients in such a way that we build their trust so they depend on our service."

Lang Motes, senior vice president of brokerage services, said from the first day Indermuehle opened his business his commitment has been "give clients what they need and want and that facet hasn't changed. We continue to implement that in everything we do. We ask hundreds of questions and when our work is all done everyone involved understands what the goal is, where we are headed, and how we are going to get there."

Being local, Motes said, gives Indermuehle a leg up on nationwide commercial real estate companies because they have first hand in-depth knowledge of the Houston and Fort Bend County markets. But that doesn't mean they don't service out-of-town customers or facilitate deals elsewhere. Right now, as the result of a referral, Indermuehle & Co. is consulting with an investment group out of San Diego. Motes said, "We pull together all the knowledge and insight our clients need in order for them to make the best real estate decisions," Motes said, and that attracts clients locally and from far and wide.

Even though Indermuehle has been in the commercial real estate business a total of 24 years he wasn't always. With an undergraduate degree in engineering and a master's degree in business administration, he went to work in Kansas City for Bendix Corporation. Several jobs with other large corporations later, Indermuehle and his wife and two children were transferred to Houston where he worked as a plant manager. They bought a house in Missouri City's Quail Valley in 1978 and their third child was born a Texan.

"We came to Houston when Emerson Electric bought Weedeater. The president of the division asked me to work on the consolidation of Weedeater and Skil Power Tools. The consolidation left me as the last employee and I was involved in transitioning them out of their nearly 200,000 square feet in Houston."

That job, Indermuehle said, "got me acquainted with the guys who came out to look at the property, and one day they asked me if I'd ever considered going into commercial real estate. I said no and one said, 'well, with your background, you'd be a natural for industrial real estate. If you're ever interested, come talk to our president.'

"That intrigued me," said Indermuehle, who talked it over with his wife and "took a big jump for a guy 36 years old with three kids. It was early in 1981 and Houston was thriving. When I got cranked up and began to make some really good money the bottom fell out, so I experienced the downturn for the next seven or eight years.

"I hadn't been in the business long enough to learn really bad habits and had not made the huge money so many guys did where they invested in property and ended up losing it. Simply put, I hadn't made enough money to get myself in trouble financially."

Indermuehle's entering the profession shortly before the lights went out in Houston, he said, was "a good experience in terms of learning the excesses that had happened and to be more prudent in judgement going forward. I think for those of us in this industry at that time, it had an impact like the Great Depression did on our parents. It was tough times but it made me more conservative in my business dealings than many people are today."

Indermuehle's approach to business has attracted many large companies to use their services including FedEx, H-E-B, Pizza Hut, Radio Shack, ChevronTexaco, Dow Chemical, Shell Chemical, State Farm Insurance, Midway Companies, Newmark, Schlumberger, Cingular, Siemens, Kroger, Southwestern Bell, Terramark, ConocoPhillips, Input/Output, Prime Communications, Planned Community Developers (formerly SPI), Frost Bank, and the Royal Bank of Canada to name a few.

In order to be the best prepared when dealing with large companies and small, Indermuehle has earned the CCIM designation (Certified Commercial Investment Member) and is one of only 7,000 people to have earned it. He is also a believer in networking so is an active member of the Houston Association of Realtors, Fort Bend Society of Commercial Realtors, Fort Bend Chamber of Commerce, Commercial Investment Real Estate Institute, the Houston/Gulf Coast chapter of CCIM.

What he said he loves about the commercial real estate business is the challenge and the fact that every transaction is different so there's a continual learning process. "There's always something new and exciting -- new developments, new opportunities are always coming along. Good or bad, I don't have time for many hobbies. This business changes so much and is so exciting real estate is my hobby." When you love your occupation and help people solve their problems, who can ask for more?

It's probably a good thing too because the commercial real estate business is currently booming and that boom is expected to continue thanks to more and more investors getting out of the stock market and into commercial real estate.

The web site for Indermuehle & Co. is www.icotexas.com The company's offices are in Sugar Land at 2333 Town Center Drive, Suite 300 and the phone number is 281-240-9090.